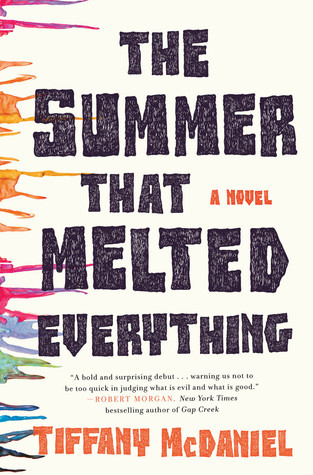 Title:
The Summer That Melted Everything
Author: Tiffany McDaniel
Publisher: St. Martin's Press
Publication Date: July 26th 2016
Source: Netgalley
Rating: 5/5
Amazon
//
Bookdepository
Synopsis: Fielding Bliss has never forgotten the summer of 1984: the year a heat wave scorched Breathed, Ohio. The year he became friends with the devil.
Sal seems to appear out of nowhere - a bruised and tattered thirteen-year-old boy claiming to be the devil himself answering an invitation. Fielding Bliss, the son of a local prosecutor, brings him home where he's welcomed into the Bliss family, assuming he's a runaway from a nearby farm town.
When word spreads that the devil has come to Breathed, not everyone is happy to welcome this self-proclaimed fallen angel. Murmurs follow him and tensions rise, along with the temperatures as an unbearable heat wave rolls into town right along with him. As strange accidents start to occur, riled by the feverish heat, some in the town start to believe that Sal is exactly who he claims to be. While the Bliss family wrestles with their own personal demons, a fanatic drives the town to the brink of a catastrophe that will change this sleepy Ohio backwater forever.
My thoughts
It was a heat that didn't just melt tangible things like ice, chocolate, Popsicles. It melted all the intangibles too. Fear, faith, anger, and those long-trusted templates of common sense. It melted lives as well, leaving futures to be slung with the dirt of the gravedigger's shovel."
Summer has lots to offer. It depends were you life what will be. Summer should be a fun time with family and friends. The summer of '84 in Breathed, Ohio is different. Attorney Autopsy Bliss is the cause of it. He invites mr morningstar in a sarcastic manner after a chase did not go as he wished. His request has been answered. It's a shock because were a cloven hoofed biblical figure should be a thirteen year old black kid with the oddest green eyes shows up claiming to be the devil himself. The authorities can't find his family looking for him and he ends up staying with Fielding Bliss and his family. Fielding Bliss is the narrator and tells his story summer of 1984 story somewhere in the future as an older man.
Tiffany Daniel's debut is shelved on goodreads as a magical realism adult novel. The magical realism aspect for me at least is in the setting. I love how Breathed, Ohio breathed heavily as if it was out of breath of the heat. Haha, a pun. The book shows characters that have monstrous capabilities. The citizens display how mob mentality happens. Racism, homophobia, fear of AIDS, agoraphobia, child abuse and religion are shown not heavy handed and are done in a non preachy way. This book has brought me out of an reading slump. A 6-month reading slump, the agony. Daniel's writing is amazing. Although it it hit me hard emotionally i'm glad i had the chance to read. I will definitely re-read it in the future. I can't wait to see what will be next.