A Slice Of Life
Hey all , this my first time and try to share some of my IRL life. I've seen this around and thought why not give it a try. My COLLEGE LIFE started again after a okayish summer. I'm in my last year of university and the preparation for thesis writing begins. Aah How do people do it? My thesis topic is history and cultural heritage themed. I'm a history major with a minor in Heritage and Tourism. I'm writing on a Jewish cemetery in Suriname. This cemetery has Ashkenazi graves. Wish me luck. Btw I can wait to read non text books this holiday weekend. Okay not a lot more but still a few chapters. Monday is Day of the Maroons. Enough chattering now unto the books
This is a sum of the past couple of weeks. This haul has library copies of books that are out of print , pre-orders and an audiobook. Synopses of sequels in a series will not be added to avoid spoilers !
LIBRARY BOOKS
Becoming Human
(Harmony of Worlds #2)
by
Valerie J. Freireich
Mass Market Paperback, 304 pages
Published January 1st 1995 by Roc
Alexander Greeneyes, a brilliant "toolman" for the planetary government of Sucre, meticulously records key political gatherings and probes the participants' discourse for unspoken innuendo. A product of controlled eugenic experiments looked down on as inhuman, he has reached the end of his built-in 35-year life span, which his politically powerful overseer and lover, Sanda Brauna, can do nothing to extend. Hoping to change his destiny as well as bring honor to Brauna, Alexander forges a deal with diplomats from the planet Neulander, where genetic manipulation is tolerated, to help Neulander's bid to become a new member in the Polite Harmony of Worlds. His plan backfires, however, when Neulander secretly attacks an allied world, implicating Alexander as a traitor and ending his life. Now his successor, 23-year-old clone August, must live down the stigma of Alexander's betrayal and win enough respect from his superiors to transcend his status as a toolman and become human. Aside from occasionally stilted prose, Freireich masterfully interweaves absorbing political intrigue and an original, futuristic version of racial prejudice. Set against a background f interplanetary war at the far reaches of the universe, here is a sweeping tale exploring what it means to be human. Can the clone of a traitor overcome his legacy, or will he be doomed to repeat it?
The Tempering of Men (
Iskryne World #2
)by Sarah Monette and Elizabeth Bear
Hardcover, 304 pages
Published August 16th 2011 by Tor Books
Hardcover, 421 pages
Published August 2nd 2005 by Ace Hardcover
Mélusine — a city of secrets and lies, pleasure and pain, magic and corruption — and destinies lost and found.




Felix Harrowgate is a dashing, highly respected wizard. But his aristocratic peers don't know his dark past — how his abusive former master enslaved him, body and soul, and trained him to pass as a nobleman. Within the walls of the Mirador — Melusine's citadel of power and wizardry — Felix believed he was safe. He was wrong. Now, the horrors of his previous life have found him and threaten to destroy all he has since become.




Mildmay the Fox is used to being hunted. Raised as a kept-thief and trained as an assassin, he escaped his Keeper long ago and lives on his own as a cat burglar. But now he has been caught by a mysterious foreign wizard using a powerful calling charm. And yet the wizard was looking not for Mildmay — but for Felix Harrowgate." Thrown together by fate, the broken wizard Felix and the wanted killer Mildmay journey far from Melusine through lands thick with strange magics and terrible demons of darkness. But it is the shocking secret from their pasts, linking them inexorably together, that will either save them, or destroy them.
PRE-ORDERS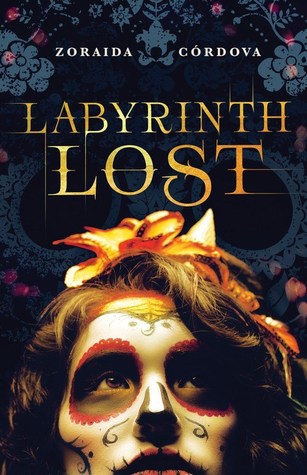 Labyrinth Lost
(Brooklyn Brujas #1)
by
Zoraida Córdova
Hardcover, 336 pages
Published September 6th 2016 by Sourcebooks Fire
Nothing says Happy Birthday like summoning the spirits of your dead relatives.


I fall to my knees. Shattered glass, melted candles and the outline of scorched feathers are all that surround me. Every single person who was in my house – my entire family — is gone.


Alex is a bruja, the most powerful witch in a generation…and she hates magic. At her Deathday celebration, Alex performs a spell to rid herself of her power. But it backfires. Her whole family vanishes into thin air, leaving her alone with Nova, a brujo boy she can't trust. A boy whose intentions are as dark as the strange markings on his skin.




The only way to get her family back is to travel with Nova to Los Lagos, a land in-between, as dark as Limbo and as strange as Wonderland…


Beautiful Creatures

meets

Daughter of Smoke and Bone

with an infusion of Latin American tradition in this highly original fantasy adventure.
A Shadow Bright and Burning
(Kingdom on Fire #1)
by
Jessica Cluess
Hardcover, 416 pages
Published September 20th 2016 by Random House Books for Young Readers
Henrietta can burst into flames.


Forced to reveal her power to save a friend, she's shocked when instead of being executed, she's named the first female sorcerer in hundreds of years and invited to train as one of Her Majesty's royal sorcerers.




Thrust into the glamour of Victorian London, Henrietta is declared the prophesied one, the girl who will defeat the Ancients, bloodthirsty demons terrorizing humanity. She also meets her fellow sorcerer trainees, handsome young men eager to test her power and her heart. One will challenge her. One will fight for her. One will betray her.


But Henrietta is not the chosen one.


As she plays a dangerous game of deception, she discovers that the sorcerers have their own secrets to protect. With battle looming, how much will she risk to save the city—and the one she loves?
AUDIOBOOKS
Stalking Jack the Ripper
(Stalking Jack the Ripper #1)
by
Kerri Maniscalco
. Narrated by Nicola Barber.
Length: 9 hrs and 26 mins
Release Date:09-20-16
Publisher: Hachette Audio
Seventeen-year-old Audrey Rose Wadsworth was born a lord's daughter, with a life of wealth and privilege stretched out before her. But between the social teas and silk dress fittings, she leads a forbidden secret life.




Against her stern father's wishes and society's expectations, Audrey often slips away to her uncle's laboratory to study the gruesome practice of forensic medicine. When her work on a string of savagely killed corpses drags Audrey into the investigation of a serial murderer, her search for answers brings her close to her own sheltered world.
Concluding thoughts: Becoming Human is a standalone in a companion series. Honestly it's the only one that sounds exciting out of the three 3 companion books. Whereas all books by Sarah Monette and Elizabeth Bear sound exciting. I've heard about the queer main characters in Doctrine of Labyrinths and the Iskryne World trilogy . Knowing makes me want to read it more.
Speaking about representation it's cool that Labyrinth Lost has a Bi latina lead. This is not the only reason for picking this one up. I've loved Cordova's debut Vicious Deep. I still have to finish that trilogy.
Reviews and and an excited author got me interested in the two other books. Both books were on my radar but I was not that intrigued to read them. Jesse the reader's review of and others on a shadow bright and burning got me that intrigued. The other one was because of A.G Howard. I love her books and I got it after I seen her loving it online. That's what I got the couple of weeks.
How has your week been?